Do you get easily attached? Well, I do. Attachment not only refers to small items but can be a variety of things, a shop, person, memory, and more. Well, for me I have an attachment to this small cafe located in the Lower East Side of Manhattan. But, what's so special about a small cafe? Normally when you look at a cafe, you don't really think of the history of how long it has been there. Or rather, how it may play a significant role in one's daily routine. Customers come by and go, but what about those that are regulars? What is their reason for going back to this one cafe so often? Mee Cafe. Located at 26 Rutgers Street in Chinatown. If one were to see pictures of the neighborhood surrounding the cafe, they may think it's not very meaningful. But rather, the exterior and interior of the cafe speaks for the neighborhood itself, the graffiti, menu, decorations and even customers tell a story.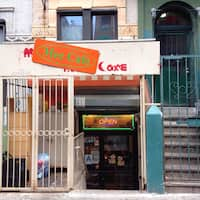 (Zomato, 2015)
When one thinks of a cafe, they might see an image of an aesthetic exterior. However, at first glance one may not think that Mee Cafe is a cafe. Not often are cafes opened in what is known as a "hole-in-the wall" and perhaps it may seem like a small restaurant to some. As the sign Mee Cafe can be seen, it is hung sideways and covering an old sign, creating an rundown image. This might make it seem like the cafe is not well owned and even unappealing. Another sign that is hung downstairs right above the entrance door labeled OPEN is made with green, blue and orange lights dancing around. A sign that is often seen used in restaurants, but unusual for a cafe. 
(Photo Source: Google Maps)
Comparing the sign hung outside and inside of the cafe, noticeably they have the same format in which the words "Mee Cafe" and "OPEN" are both placed in a circle and have the same colors of green and orange. Although it may not be noticeable it creates a consistent color theme for the cafe. The OPEN sign especially influences my strong personal attachment to this cafe. In which, my family's past business used the same sign creating a sense of nostalgia. This cafe having been open since my childhood created a stronger sense of attachment.
(Fox E., 2018)
 The location of the cafe is also not ideal for a business. The street that it is located on is also home to several other small businesses as well. Shops such as a laundromat, deli, offices and more. The neighborhood in which the cafe is located can be easily predicted as to what people reside there. As can be seen in the image, graffiti takes up the white space beside the cafe's sign as well as the post of an apartment beside the cafe. This suggests a ghetto or overall an immigrant and minority based neighborhood. Nearby is also an elementary and middle school in which I attended as a student. The majority of students who attended would usually reside close to the school and were mainly populated with Asian and African American. Unsurprisingly, many of the students quickly became regular customers of the cafe, as did I.
(Photo Source: Google Maps)
(Photo Source: Google Maps)
(Photo Source: Google Maps)
The owner of the cafe is an Chinese immigrant. I personally do not know much about his background, however am aware that he is not fluent in English. Despite his lack of fluency, the cafe's menu is written in only English which came as a surprise as I looked back. Even during 2012, the menu was written in English. However, over time it became noticeable and understanding as to why it was so. Majority of customers that came in were students that were in elementary all the way to college students, people who were fluent and born in America. Although, at times, there were Chinese and elderlies who came as customers, however, the language choice of the menu did not come as an obstacle.
The owner is bilingual and able to speak four different languages. Mandarin, Cantonese, Fujonese and English. Within Chinatown, there was a great statistical percentage of 32.7% of Whites, 32.1% of Asians, 25.1% of Hispanics and other minority groups that populate the area but was still predominantly filled with Asian immigrants. Those that weren't literate in English ordered by asking if a drink was available in their own language. They weren't uncomfortable seeing the menu written that way. It was clear as the owner had already adapted to catering his business towards Americans. 
(Fox E., 2018)
(Tam N., 2012)
(Lily Y., 2017)
Mee Cafe was mainly focused around serving tea. A popular beverage that is drinked in China. In which, tea has been oftenly used to create different flavors and drinks. One popularly known as bubble tea that originated in Taiwan but quickly was popularized in China. Reviewing the menu, it can be seen that many of the items are catered towards Asians or those who have different flavor preferences of tea. Creating a targeted audience of consumers. However, if one were to think of a bubble tea shop. The names "Kung Fu Tea" and "Vivi" may come to mind as they have a chain of stores. Being chained stores, their shops are more likely to be opened up in places that are financially well off allowing them to sell their products more expensively. In comparison to Mee Cafe as a family-owned business in a low-income neighborhood, they need to take into consideration if customers are likely to come back if their menu was expensive or inexpensive.  
Despite the background of Mee Cafe's upbringing, a great variety of people come by day to day. Happy hour usually comes around in the afternoon during 2 to 3 PM, the time in which many of the students are released from school. Friends and reviewers agree that Mee Cafe "this is a local gem for the most original bubble tea, this place has been here for so long it feels like home, the staff like family, and they kept their place neat and small". As prices are cheap, it creates an incentive for customers to keep coming back as well. Another incentive that Mee Cafe has always kept is a loyalty card, in which a customer needs to buy 8 bubble tea drinks in order to redeem a free one. This persuades more customers to come back. 
(Kevin N., 2015)
(Henry T., 2015)
In 2013, a customer Steven Chen exclaimed that,  "Plain bubble tea for $1.75, a quarter extra for any flavorings. Sounds legit". Slowly over time, the prices have gone up but are still very much affordable. As reviewed recently by a customer Jenny L. that "I love going to Mee's! This is the place to get inexpensive teas and snacks. . . . Whenever I come here, I usually get French toast ($2.50), condensed milk toast ($1.00), iced milk tea ($1.50), and iced lemon black tea ($1.75). I highly recommend it." Being located at Rutgers Street, rarely are there any businesses that charge their food/products/items at a high price as the neighborhood can be considered to be ranked as a lower class.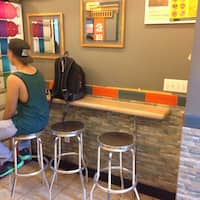 (Zomato, 2015)
(Zomato, 2015)
Mee Cafe in itself is a very small business owned by an immigrant family. Having grown up around the neighborhood during my childhood, I never noticed the small details that the cafe had. The small OPEN sign, English written menu, and even graffiti spread all around the neighborhood and over the entrance of the cafe. These small details all seemed insignificant in the past, however, putting them back together, they represented a story. A story of how a cafe came to be. The term Linguistic Landscapes at first came to be complex. However, on further research it became easier to understand. In one's everyday life, on public and commercial signs different languages are displayed in a specific area. Whether it is a diverse range of language or one specific language like English, it gives one a clearer understanding of a region's surrounding and history.
(Photo Source: Google Maps)