Touch of Evil is an energizing and anxiety-inducing film without a dull moment. The criminal character Joe Grandi provided a lot of comic relief throughout the movie. I laughed at his rigorous 'faceslappage' of his disobedient nephew and how his hairpiece subsequently fell off. Another scene with Grandi that was shot superbly would be his last in the movie. In the moments leading up to Grandi's murder, there were several shots where the camera is oddly angled behind a bed. Beyond the wirey bed frame, Susie Vargas is shown fast asleep in a drugged state. After being strangled, Grandi is thrown onto the frame and there is a close-up shot his gaping wide eyes and lifeless head on the frame. I jolted out of my seat after seeing that! Upon reflection, it was a nice cinematography technique.
I also enjoyed the presence and actions of leading lady Susie Vargas, played by Janet Leigh. She is undeniably beautiful, but a world apart from the femme fatale usually found in film noirs. She doesn't bring demise to her protagonist husband and in fact, has a great deal of sensibility and righteousness. She put on a strong face when she was 'kidnapped' because she knows her hubby, Mike Vargas, would protect her at all costs. It was also a triumphant moment when she threw the lightbulb at the man who was peeping at her through the window (the noise of the bulb smashing to pieces gave me great satisfaction)! On the other hand, I didn't like how Susie had to be rescued like a damsel in distress– There was surely a way she knew that the motel was suspicious to begin with and she wouldn't have stayed there for the night? And surely she could have escaped from those moronic Grande kids, right?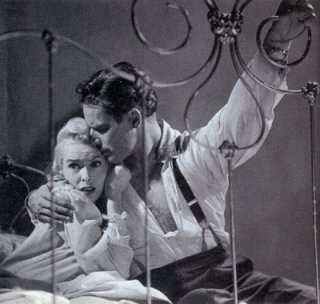 (Susie in the protective arms of her husband. Image Source: http://www.eskimo.com/~noir/ftitles/touch/index.shtml)
Compared to other film noirs, Touch of Evil has absolutely zero flashbacks, everything is told in a story from beginning to end, and there is no guesswork as to the background of any of the characters. It was a refreshing experience to have the movie play and out and be caught up in straightforward drama and actions happening in the moment. Moreover, the fact that the ending isn't entirely dark and hopeless gave me a better viewing experience.
Side note: Sorry for the posting delay, but the website was down yesterday night. I realize now that this post didn't stick consistently to one aspect of film noir, but hopefully I brought up some good points that sparked some interest in you guys! It'll be interesting to hear your opinions about Touch of Evil, especially about the humor presented and the portrayal of Susie Vargas.