As the creation of new types of food, more and more different types of moon cakes flow into the market. People usually can find out Five Kernel and Roast Pork mooncakes, red bean paste mooncakes, and lotus seed paste mooncakes in the supermarkets or bakery stores. The three types mentioned above are the most traditional and popular among middle-age people or elders. Later, new flavors are created such as fruit and vegetable mooncakes, chocolate mooncakes, ice-cream mooncakes, green tea mooncakes, and snow skin mooncakes. Young people prefer to eat these types of mooncake since they are more fashioned and tasty.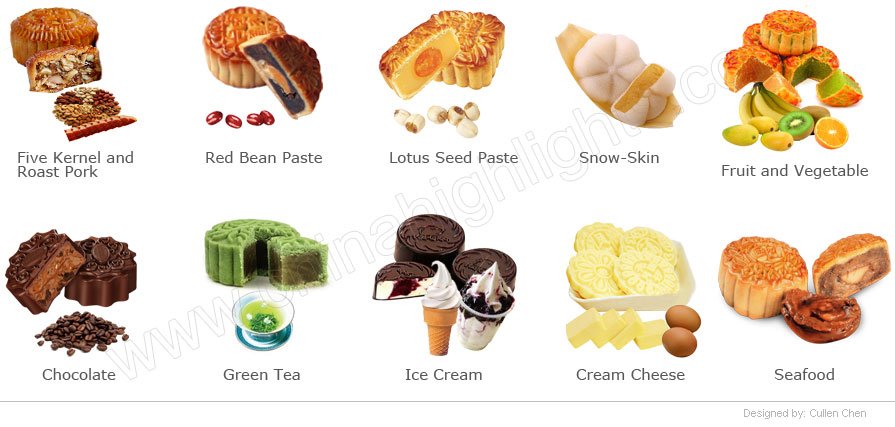 Mooncake is a traditional food during mid-autumn festival, so some elders in the family know how to make the traditional classic flavor mooncakes. Most of middle-age people and young children would not make mooncakes at home nowadays. This is because mooncakes are high-volume items. The process of making a traditional mooncakes are very complicated and time-consuming, home-made mooncakes need to lying idle for at least two weeks to let the oil inside the mooncakes to come out and make it smelly and tasty.
People would rather to buy the mooncakes in the store and send as gifts to their friends or relatives. This is a traditional activities which is that sending mooncakes to others is the best wish for the family. Some community centers deliver mooncakes to the residents for the celebration or held the activities of making mooncakes to let more people get to know mid-autumn festival.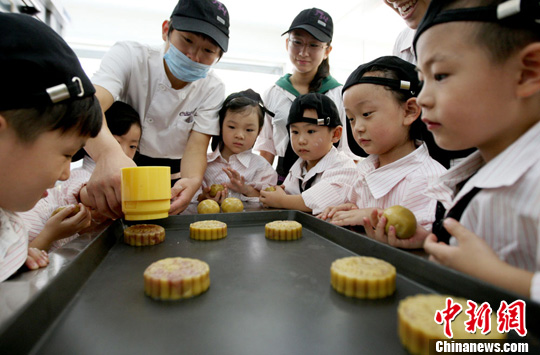 Here we are going to teach you how to make mooncakes at home. There are two types of mooncakes that are easily to make and less chance to fail. They are egg-yolk lotus seed paste mooncake and snow skin mooncake.
Egg-yolk Lotus Seed Paste Mooncake
Receipt:
Lotus Seed filling:
1/2 tsp sal
150g dried lotus seeds
120g caster sugar
80g vegetable oil
Moon cake Dough:
180g plain flour
125g honey
1/8 tps (0.5g) dietary alkali
55g groundnut oil
other material: salty yolks, egg wash, kitchen scale, mooncake press, and oven.
Video of making Egg-yolk Lotus Seed Paste Moon Cake:
Green Tea Snow Skin Moon Cake with Red Bean Paste:
Receipt:
Ingredient for Green Tea Snowy  Skin: (about 15 mooncakes, 60g for each)
60g glutinous rice flour
40g rice flour
15g cake flour
10g wheat starch
50g sugar
250 ml milk
3 tablespoons vegetable oil
3 tablespoons sweetened condensed milk
5g green tea powder
Red Bean Pasta Filing:
200g red bean
650 ml water
80g sugar
12g wheat flour
2 tsp vegetable oil
Pinch of Salt
Vide of making Green Tea Snow Skin Moon Cake with Red Bean Paste: