During mid-autumn festival, Chinese people would stay with their family members and eat family reunion dinner. This dinner emphasizes the season's harvest, such as pumpkins, taros, watermelon, lotus root, chestnut, and so on. There are some other traditional celebratory food like hairy crab, shrimps, ducks, pork, and chicken. Among those seasonal food and traditional food, the main role of the whole dinner is the mooncake which symbolizes the full moon in the sky.
While people are having the dinner with their family members, they can raise their heads to enjoy the beautiful full moon in the sky and watch the mid-autumn festival gala on TV. In addition to the Chinese New Year,  Mid-autumn Festival is an important time for people to reunite, just like Thanksgiving in the United States.
Pumpkins: Bring People Good Health
People who live near the south of Yangze River starts to eat pumpkin. The legend of eating pumpkin happened long ago, a poor girl whose name is Huang Hua lived with her gravely ill parents who were unable to feed and clothe themselves. On the day of mid-autumn festival, she took two pumpkins to home. After eating the pumpkins, her parents' health was fully restored. Then this tradition has been handed down to generations and believed that it will bring people good health.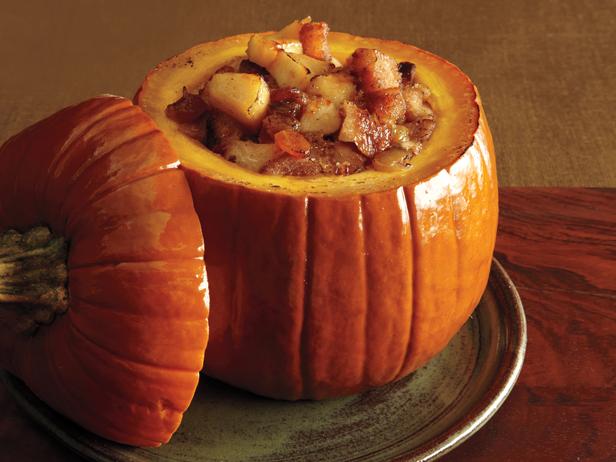 Taro: To Bring Good Luck
The tradition of eating taro on Mid-autumn Festival need to go back to Qing Dynasty (1636-1912). Around the province of Jiangsu and Zhejiang, the word "taro" has the same pronunciation as "luck is inside". Therefore, eating taro in Mid-autumn Festival can bring good luck and wealth.
photo credit to Deenida/Shutterstock
Watermelon: family reunion
Watermelon signifies fertilities for being full of seeds and its round shape symbolizes family reunion. In Shanxi province, people cut watermelon into the shape of lotus to symbolize good fortune.
photo credit to Mutita EdibleArt
Duck: different methods of cooking
Duck is very rich during autumn, Chinese people believe that eating ducks can expel pathogenetic heat from their bodies to keep the balance between "ying" and "yang". There are many different ways to cook duck. The most common way is the fried duck with tender ginger. In Jiangsu province, duck is accompanied with osmanthus flowers  since they are in full bloom during that season. In the west part of China, people enjoy smoke-baked duck.
River Snails: Brighten Your Eyes
For people who live in the south part of China especially Guangzhou, river snails are indispensable food in the mid-autumn festival. River snails are usually cooked with medicinal herbs to dispel the odor. During the festival, it is the best season to eat river snails and it helps to brighten the eyesight.
Hairy Crab:
Eating hairy crab becomes popular in recent year; it is a dish that brighten the whole festival dinner. In September and October, hairy crabs are in their best season. They are rich in protein and amino acids. A plate of steamed hairy crabs with ginger and vinegar pushes the Mid-autumn Festival reunion dinner to the climax.
Sources:
http://www.china.org.cn/top10/2013-09/18/content_30062182_9.htm
http://www.chinadaily.com.cn/food/2016-09/14/content_26793629_3.htm
https://www.chinahighlights.com/festivals/mid-autumn-festival-food.htm