Adrian Lee Bermeo, 24, is an emerging young artist from the Jackson Heights neighborhood in Queens. He began to immerse himself in the arts at the tender age of 3, stating that his first pieces of works were drawings of characters such as Tom and Jerry.
After being heavily influenced by Hip Hop, jazz, and funk, he began to showcase his art through various mediums. One of these mediums is apparel design. Presently, Bermeo is the sole owner, creator, and main artist of his clothing company, SnipCiti. Starting in February as an idea, by April it was an official trademark.
Displayed below are a few of his designs, which he says is inspired by his own New-York based photography.
Apparel is hardly the only method Bermeo uses to display his art. He is first and foremost a painter, and the occasional wire-sculptor.  He learned to utilize his talents first in Queensboro Community College and then at LaGuardia. "To me the best art professors that I had didn't tell us what to do or how to do it, but instead would motivate us to do what we wanted to do." Bermeo said. After selling his artwork on the side of Roosevelt Avenue or Union Square, he began to harness the power of the internet, creating an Instagram page and website.
The amount of time it takes Bermeo to create a canvas can range anywhere from four hours to half a year, and he sells them for roughly $50-$150 each. These are a few of his canvas which can be purchased on his site, Abermeo.com
From The Jazzy Gentleman Collection:
#11 is on the left and #2 on the right.
As far as his wire sculptures, Bermeo produces them using microchips and old aluminum/metal wires he finds on the streets of New York. He claims they are an extension of his personality, and each character is a representation of himself.
Aside from visual art and design, Bermeo is also an emcee and music producer, who goes by the name MC Rebel Lee. He said, "I made sure I had MC in it, so people know when they hear the name, or see the name, or read the name, that I'm not trying to be like this new stuff, I'm still sticking to the roots." Having released one mixtape to popular websites like Band Camp, DatPiff and SoundCloud, Bermeo is already working on a second one.  
Below are a few of his tracks
Bermeo is an avid record collector, and his music is inspired by a variety of artists. Some of which are shown in the photo below.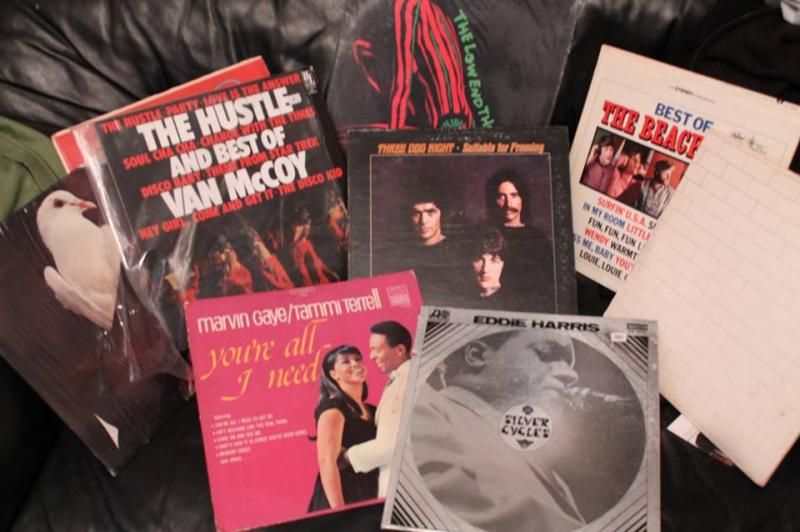 Be on the lookout for this new artist, who seems to be tackling the art scene from every angle in New York City.