http://nyicff.org/tickets/?event_id=6455185
OPENING NIGHT: THE BOY AND THE BEAST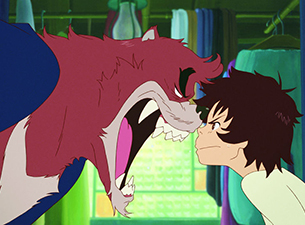 SPECIAL PREVIEW SCREENING — See it before it opens nationwide on March 4th! The latest tale from Mamoru Hosoda is brimming with the striking visuals Festival veterans have come to expect from the director of 2010's Summer Wars and 2013 Audience Award-winner Wolf Children. When Kyuta, a young orphan living on the streets of Shibuya, stumbles into a fantastic world of beasts, he's taken in by Kumatetsu, a gruff, rough-around-the-edges warrior beast who's been searching for the perfect apprentice. Despite their constant bickering, they begin training together and slowly form a makeshift family. When a deep darkness threatens to throw the human and beast worlds into chaos, the strong bond between the unlikely pair is put to the test in a final, epic showdown. Can they work together to combine their strength and courage? In Japanese with English subtitles. Presented by Funimation Films.
Note: Fighting and swordplay are integral to the story. During more heated moments, strong language is used.