Thursday, October 6th, 6 PM, 403 Kent Hall, Columbia University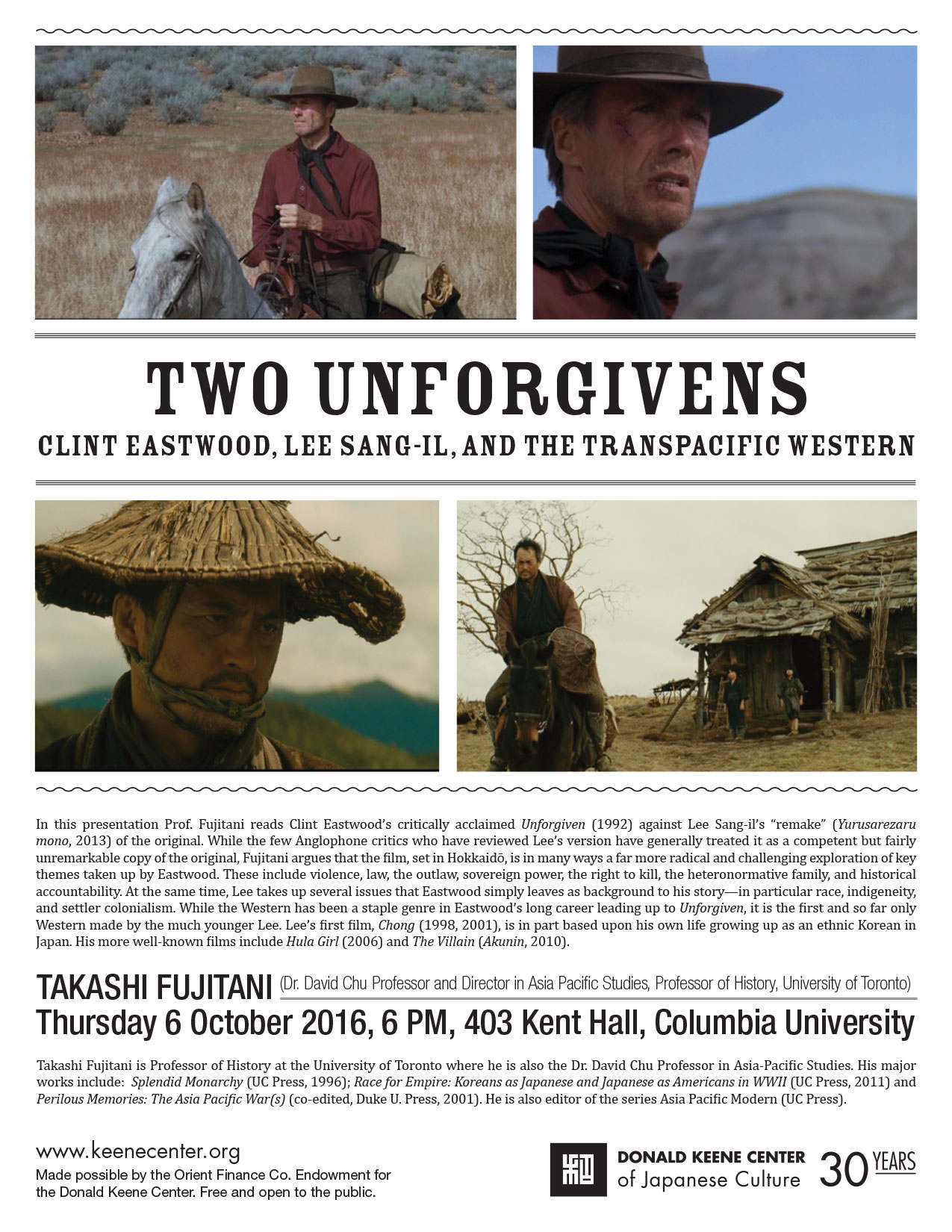 Two Unforgivens: Clint Eastwood, Lee Sang-Il, and the Transpacific Western
Takashi Fujitani (Dr. David Chu Professor and Director in Asia Pacific Studies, Professor of History, University of Toronto)
Dear Friends and Colleagues,
Please join us tomorrow for Professor Takashi Fujitani's presentation entitled "Two Unforgivens: Clint Eastwood, Lee Sang-Il, and the Transpacific Western."
Two Unforgivens: Clint Eastwood, Lee Sang-Il, and the Transpacific Western
Thursday 6 October, 6 PM
Kent Hall, Room 403, Columbia University
No registration required.
In this presentation Prof. Fujitani reads Clint Eastwood's critically acclaimed Unforgiven (1992) against Lee Sang-il's "remake" (Yurusarezaru mono, 2013) of the original. While the few Anglophone critics who have reviewed Lee's version have generally treated it as a competent but fairly unremarkable copy of the original, Fujitani argues that the film, set in Hokkaidō, is in many ways a far more radical and challenging exploration of key themes taken up by Eastwood. These include violence, law, the outlaw, sovereign power, the right to kill, the heteronormative family, and historical accountability. At the same time, Lee takes up several issues that Eastwood simply leaves as background to his story — in particular race, indigeneity, and settler colonialism. While the Western has been a staple genre in Eastwood's long career leading up to Unforgiven, it is the first and so far only Western made by the much younger Lee. Lee's first film, Chong (1998, 2001), is in part based upon his own life growing up as an ethnic Korean in Japan. His more well-known films include Hula Girl (2006) andThe Villain (Akunin, 2010).
Takashi Fujitani is Professor of History at the University of Toronto where he is also the Dr. David Chu Professor in Asia-Pacific Studies. His major works include:  Splendid Monarchy (UC Press, 1996);Race for Empire: Koreans as Japanese and Japanese as Americans in WWII (UC Press, 2011) and Perilous Memories: The Asia Pacific War(s) (co-edited, Duke U. Press, 2001). He is also editor of the series Asia Pacific Modern (UC Press). He has held numerous grants and fellowships, including from the John S. Guggenheim Foundation, American Council of Learned Societies, Stanford Humanities Center, and Social Science Research Council. He is currently working on three major projects with the tentative titles:  Cold War Clint: Asia and the World of an American Icon; Whose 'Good War'?: The Asia Pacific War(s); The Sovereign Remains: Essays on the Japanese Monarchy and Questions of Sovereignty.
All events are free and open to the public.
Sponsored by the Orient Finance Co. Endowment for the Donald Keene Center of Japanese Culture at Columbia University.
Please visit our website, www.keenecenter.org, for the latest information on our events.
Upcoming Events for Fall 2016
[All events take place at Columbia University. The following information is subject to change.]
October
TOMORROW!
Takashi Fujitani (Dr. David Chu Professor and Director in Asia Pacific Studies, Professor of History, University of Toronto)
Two Unforgivens: Clint Eastwood, Lee Sang-Il, and the Transpacific Western
Thursday 6 October, 6 PM, 403 Kent Hall, Columbia University